Orange County Children's Water Education Festival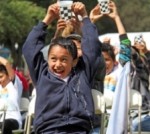 Showing the importance of Water PIRE's focus and engaging the next generation, the graduate students of UCI Water PIRE have developed an interactive activity for children participating in the Orange County Children's Water Education Festival.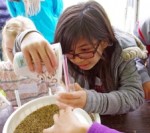 These 3rd, 4th, and 5th grade students will be educated on the need for capturing stormwater via systems such as biofilters, learn how biofilters work, and will then build their own mini biofilters. They will also compare theirs to those made by their fellow classmates and the example "control" biofilter made by H2Outreach. These elementary students won't just learn about a new way water can be conserved, but will see for themselves how biofilters work and will become researchers as they experiment with biofilter design and then test their hypotheses (or designs) in a cooperative and collaborative environment.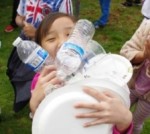 This festival lasts for two days and we anticipate interacting with over 700 students. Additionally, the White House's Office of Science and Technology Policy acknowledged H2Outreach's efforts in a December 3rd press release on climate change education "FACT SHEET: Lifting America's Game in Climate Education, Literacy, and Training."
Many thanks to those who have already agreed to donate time and/or resources for our graduate students' presentation, and a special thanks to Moulton Niguel Water District for donating materials for the water festival!


________________________________________________________________________________________________________________________________________________________